Youth Ensemble
Attention… There will be no rehearsal on January 16 for YE due to snow conditions.
Welcome Youth Ensemble Singers!
Rehearsals begin on September 5th, 7:00 at South Medford High School in the Choir Room. Auditions will be held during rehearsal on September 5, 19, and 26 (No rehearsal on September 12). Invite a friend who loves to sing to join us.
The Youth Ensemble began as an extension to the RVYC treble choruses, and as an enriching, extra-curricular chorus experience for advanced high school singers in the area. Singers in grades 9-12 rehearse and perform high quality SATB literature that is diverse, challenging, and beautiful.  The ensemble tours each summer and sings for a variety of business, charitable, and private events throughout the year.
Youth Ensemble Rehearsals: Thursdays, 7:00-9:00 at the South Medford High School Choir Room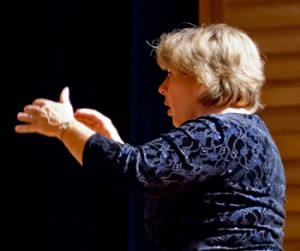 Pam Nordquist founded the Rogue Valley Youth Ensemble in 2002. She received a master's degree in choral conducting at the University of Missouri-Kansas City. Pam has taught elementary, middle and high school music and chorus and currently co-directs the choirs at South Medford High School. She is an active guest clinician/conductor for middle school and high school choirs. She served as President of the American Choral Director's Association of Oregon.
For additional information or to learn about auditions please click here.
Youth Ensemble Photo Gallery
Rogue Valley Youth Choruses
724 S Central, Suite 102
Medford, OR 97501
541-414-8309
Celebrating the joy of singing!