Discovery Chorus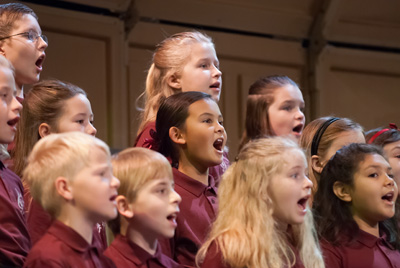 Discovery Chorus
The Discovery Chorus provides a unique opportunity for third and fourth grade children to explore choral singing.  Through the use of diverse, quality literature, singers will learn beginning choral techniques including  breath control, unified natural tone, posture, rhythmic and melodic notation, and ensemble singing. Singers must demonstrate responsible behavior and individual commitment to a learning experience.
Discovery Chorus Rehearsals: Tuesdays, 4:15-5:45 at Ascension Lutheran Church
Wendy Cawthorne was born and raised in Central Point, OR.  She has
been a public school teacher since 2002 and has taught an elementary classroom and general elementary music.  She has directed several choirs for students in elementary through middle school.  Wendy has also directed church choirs for 15 years, coordinated music for vacation bible schools, and has been the music director for a local high school musical.  She is currently the choir director for the Eagle Point School District.
Wendy has directed the RV Discovery Chorus since 2015.  As a girl, she was an original member of the Children's Chorus, the first RVYC choir founded almost 40 years ago.  She has remained involved on and off throughout the years in varying capacities.  All three of her children either have sung or currently sing in the RVYC.
Wendy holds a BA in Music and a Master of Arts in Teaching, both from Southern Oregon University. She resides in Central Point with her husband and youngest daughter, and not far from her other 5 children.
For additional information about the Discovery Chorus or to learn about auditions please click here.
Youtube Videos
To watch Discovery Chorus singing Rainy Day Rhythm click here.
To watch Discovery Chorus singing You're A Grand Old Flag click here.
Rogue Valley Youth Choruses
724 S Central, Suite 102
Medford, OR 97501
541-414-8309
Celebrating the joy of singing!